Empowering the Citizen Patient

Article #1
Healthy People, Healthy Communities – What's Happening in Health Care
Access to health care is difficult for some and confusing for others; many people don't have ongoing access to a family doctor or nurse practitioner (referred to as "Attachment").  Health care leaders – those people  entrusted with overseeing and improving health care – are working hard to find solutions so that high-quality culturally safe health care is available for all. This article describes the current health care system in the Kootenay Boundary (KB)  and provides a number of resources to help you better navigate the system.
"As a Kootenay Boundary resident, understanding the health care system felt like trying to decode a complex puzzle," says Arlene Parkinson, resident of Warfield, BC. "Although I have been extremely lucky to have a family doctor, many others are struggling in their quest for consistent health care. This article, especially the visual infographic, will help to give more clarity. It's empowering to know how the system works, and with that knowledge, I feel more confident making informed decisions about my health and that of my community."
Understanding Our Health Care System
The interactive graphic below gives you a quick and easy way to explore the different organizations involved in planning and delivering health care in the KB. Many of these are regional. Click/tap on the image and then click/tap on the "i" for a summary and links for more information on each organization, including how you can contact them.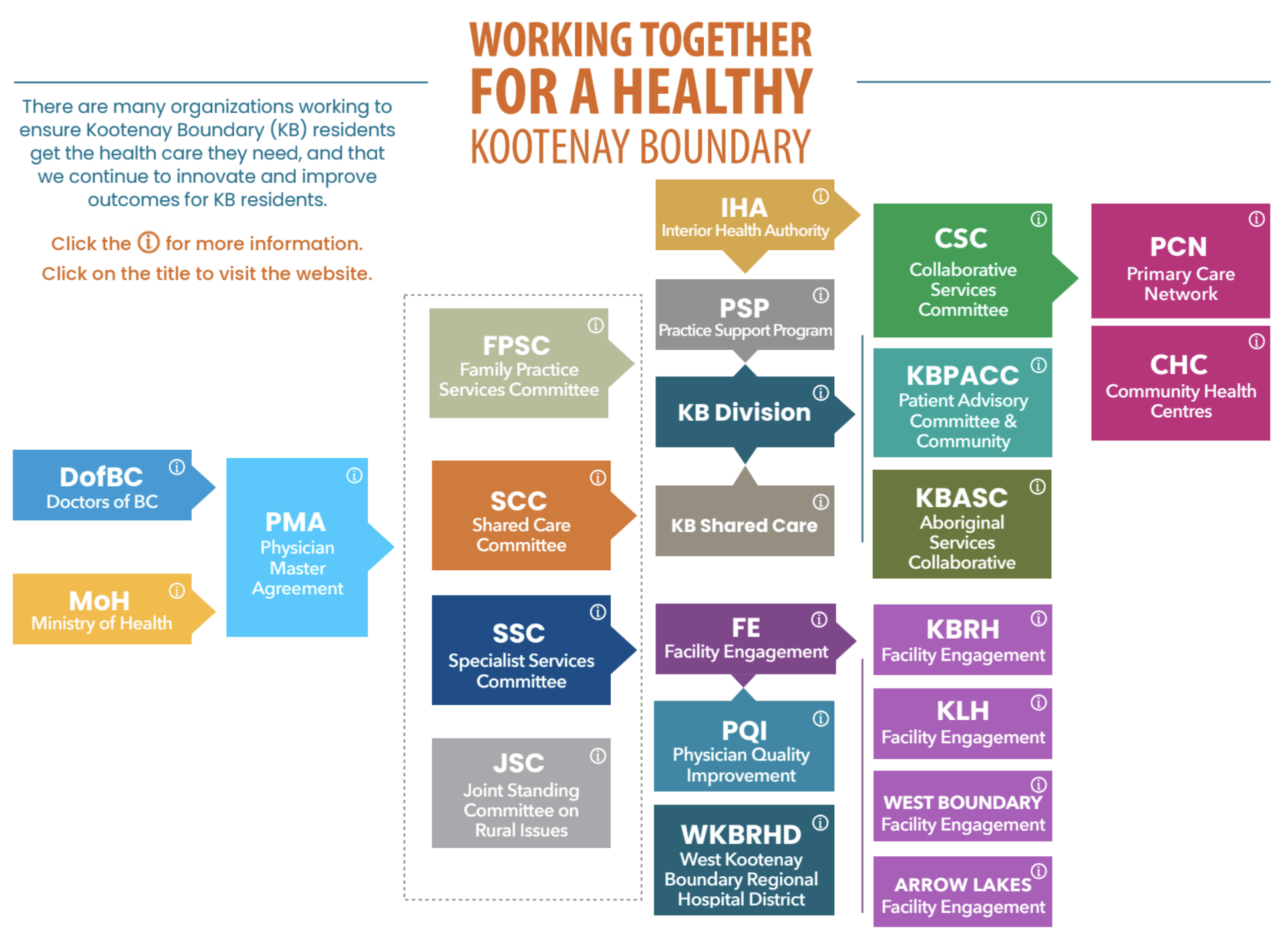 "The visual graphic was very helpful for understanding the health care system.  It is very complex but that's because the work is all collaborative.  I can see that the government, doctors, health authorities and others are working together to improve the system.  That's a good thing."
– PACC Member and Trail Resident, RaNae Nicholls
Right Place, Right Time, Right Practitioner
Right now in the Kootenay Boundary we have 26 family practice clinics that provide primary care. We know that about 12,000-18,000 people in the Kootenay-Boundary area are actively seeking a Family Doctor or NP and can't get one. We also know that more practitioners will retire in the next two years. All of the organizations in the graphic above are working hard to fix this problem.
Over the past 5 years, with funding from the Ministry of Health, the KB Collaborative Services Committee (CSC) created the Primary Care Network (PCN) which has introduced over 40 
registered nurses, social workers, physiotherapists, occupational therapists, respiratory therapists, registered dietitians, a clinic pharmacist, and  Aboriginal Health Coordinators now all working alongside physicians and nurse practitioners in our region. While the full impact of Kootenay Boundary's Primary Care Network will take time to realize, some physicians and nurse practitioners have taken on more patients, and both patients and practitioners alike agree it has improved the quality of care.
Alongside these efforts, the CSC is collaborating with KB communities to explore the possibility of creating not-for-profit Community Led Clinics, similar to Community Health Centres (CHCs). Some of these proposed clinics will be community-governed and not-for-profit, providing patients with access to a team of health care providers working together to care for patients of all ages and abilities. Working with Aboriginal organizations, settlement services and other groups to provide a culturally-safe space,
these clinics will also integrate other health care and social services that focus on the needs of all members of our community. For a model currently under development in the Lower Columbia region, please refer to: www.kootenayclinics.org
Patients who don't have a family doctor or nurse practitioner
For patients needing a family doctor or nurse practitioner, you are encouraged to sign up for the KB Health Connect Registry, a region-wide patient registry.

The Health Connect Registry is the most efficient way to find a family doctor or nurse practitioner in the region. Once registered, you will be added to the list in chronological order and contacted directly when a primary care provider is available.
Expanding Care Options
In 2021, the Kootenay Boundary region launched the "KB Health Primary Care Clinic," a virtual clinic designed to assist patients who are most in need of health care but lack a primary care provider. Patients listed on the KB Health Connect Registry receive prioritized support from KB Health, based on referrals from emergency care practitioners, specialized community services (such as an Aboriginal Health Coordinator, maternity clinic, or Mental Health & Substance Use), or specialist physicians.
KB Residents Can Now See a Pharmacist for Minor Ailments and Contraception!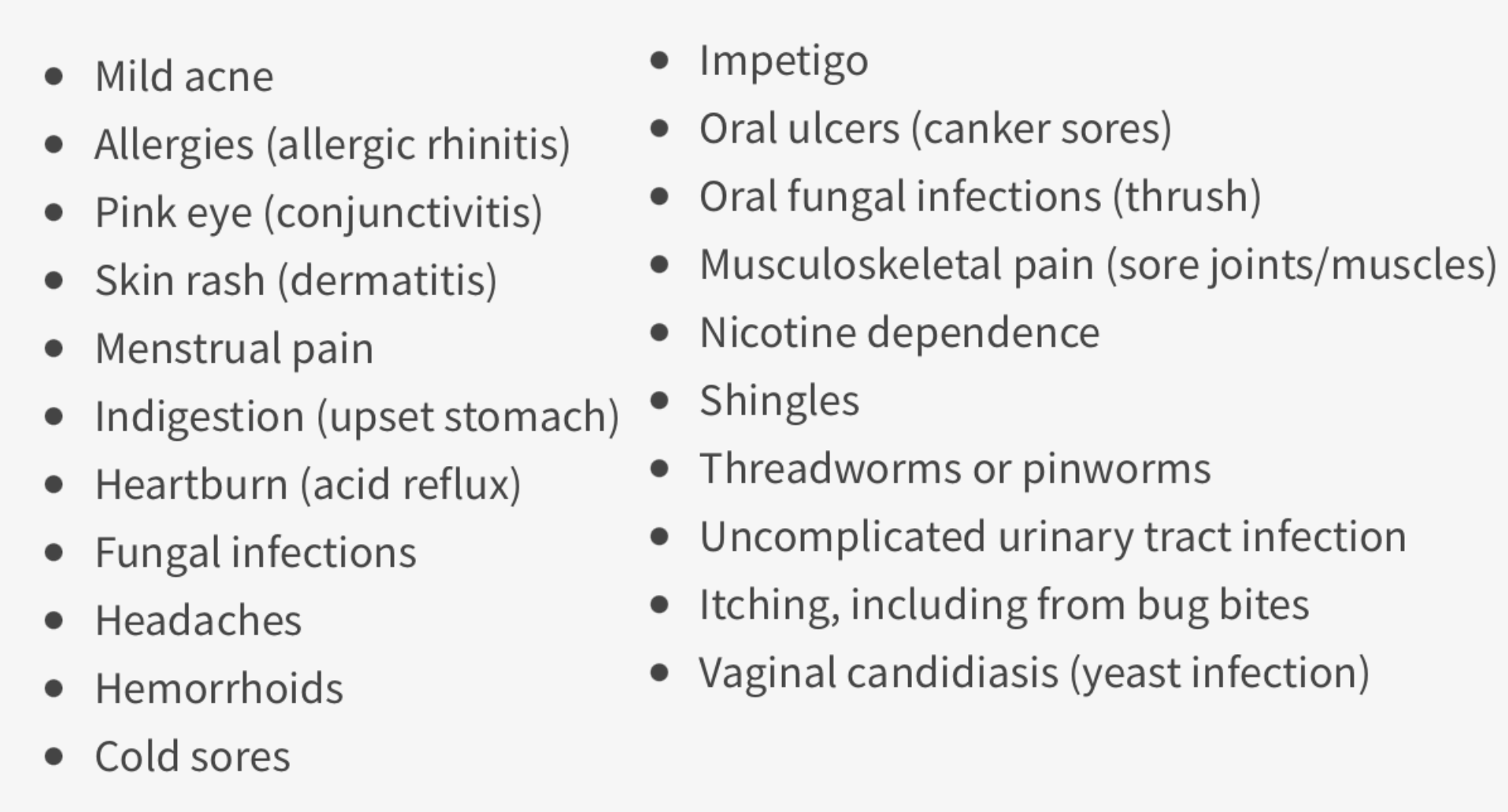 For those who are interested in sexual health care, including birth control, pregnancy support, and screening for sexually-transmitted illnesses,
Options for Sexual Health
is a good resource. 
There are also plans to expand care options further with more paraprofessionals such as community paramedics in Kaslo, and more outreach workers like patient navigators. Navigators are already in place through the Circle of Indigenous Nations Society and BC Cancer Agency.  
In the last four years, we've seen an expansion of resources to support culturally-safe care for Aboriginal people.  This includes two Aboriginal Health Coordinators, the creation of the KB Cultural Safety website, a full-time Aboriginal Patient Navigator (funded by Interior Health), and ongoing opportunities for health providers to participate in cultural awareness education.
Improving Technology
In the realm of technology, patients have greater access to their health care information through online platforms like Health Gateway and MyHealthPortal. These platforms enable secure and direct access to health records, test results, and much more. Communication with clinicians expanded fast during the COVID pandemic, with more telephone and video calls (remote care or telehealth). Work is ongoing to find the right mix of in-person and telehealth visits within practices.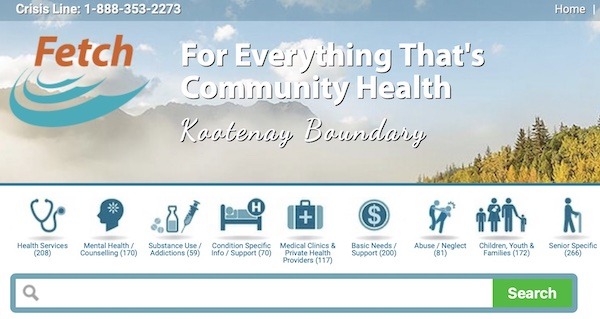 KB FETCH (For Everything That's Community Health) is a rich source of information about KB community resources, listing many programs and services including local health and mental health services, basic needs support like food and housing, employment, children and family agencies, and help for seniors. Health Link BC is another great website with information about local resources.
After Hours Care / Patients without a Primary Care Practitioner
For immediate health care support outside regular clinic hours, or for those without a primary care clinician, various options are available. Residents can dial 8-1-1 or 604-215-8110 for medical information and advice from registered nurses, dietitians, and pharmacists. Several urgent and emergency care facilities are also available in the region:
Ancron Medical Centre, Nelson:

walk-in clinic on first-come, first-serve basis (Hours: 10 am-2 pm Saturday and Sunday)

Arrow Lakes Hospital, Nakusp

: 250-265-3622 (24-hour emergency care)

Boundary Hospital, Grand Forks

: 250-443-2100 (24-hour emergency care)

Castlegar Urgent and Primary Care Centre

(UPCC): 250-365-7711 (care for non-life threatening illness or injuries. Hours: 8 am-8 pm daily. Go to the Emergency Department. You will

receive care in either Emergency or the UPCC, depending on urgency and need.)

Kootenay Boundary Regional Hospital, Trail

: 250-368-3311 (24-hour emergency care)

Kootenay Lake Hospital, Nelson

: 250-352-3111 (24-hour emergency care)

Slocan Community Health Centre, New Denver

: 250-358-7911 (Hours: 8 am-8 pm daily)

Victorian Community Health Centre, Kaslo

: 250-353-2291 (Hours: 9 am-5 pm Monday-Friday)
For further assistance, you can also use Telus Health's phone-in service Telus Health which provides some primary care services at no cost and additional services for a fee. 
Get the articles direct to your inbox!