Empowering the Citizen Patient

A New Campaign to Help People Support Their Health and Navigate Care in Kootenay Boundary
We all benefit from access to the information we need for our health & health care.  The 'Empowering The Citizen Patient' series shares practical information to help community members better understand our health care system, alongside tips & resources to support health & navigate care in Kootenay Boundary.
In challenging times, with a family practitioner shortage and many barriers to patient care, this project aims to uplift community spirit, offer practical tips, and help everyone in our region participate more effectively in their health care at all levels.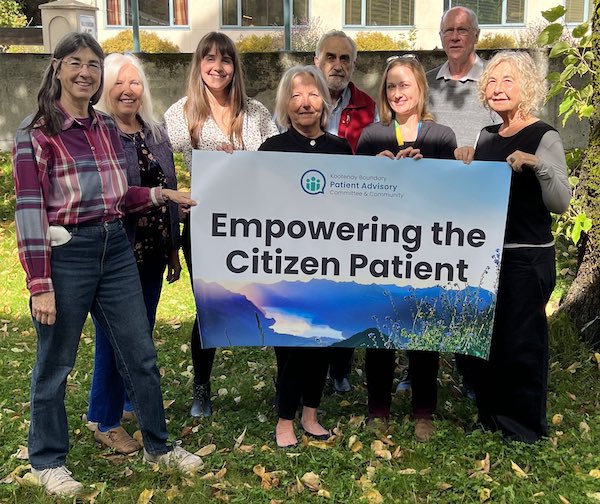 Mindy Smith (PACC), RaNae Nicholls(PACC), Maggie Williams (PACC Admin, KBDivs), Maria Klement (PACC CoChair), Vince Salvo (PACC), Ksenia Forde (PACC Support, IH), Paul Burgener (PACC), Leora Gesser (PACC CoChair)
'Empowering the Citizen Patient' is led by the Kootenay Boundary Patient Advisory Committee & Community (PACC), which is a group of citizen patients. We want to reassure community members that the voice of patients is being heard, and that together with all the health care organizations, practitioners and managers and front-line health care staff, we're working hard to continually improve the system so high-quality health care is available for all people in Kootenay Boundary.
"Knowledge is the cornerstone of empowerment," says PACC CoChair, and Grand Forks resident, Leora Gesser. "As a community member and patient, I want to reassure community members that the voice of patients is being heard. I want to tell people about all the amazing, collaborative efforts going on to make our health system work better for us, and that we can get involved ourselves to help improve our health and health care in Kootenay Boundary. That's what being a citizen patient is all about."
We invite you to click/tap on the links below to learn more. And please don't hesitate to reach out to us if you have any feedback or questions.
Article #1: Healthy People, Healthy Communities – What's Happening in Health Care
Access to health care is difficult for some and confusing for others; many people don't have ongoing access to a family doctor or nurse practitioner (referred to as "Attachment").  Health care leaders – those people  entrusted with overseeing and improving health care – are working hard to find solutions so that high-quality culturally safe health care is available for all. This article describes the current health care system in the Kootenay Boundary (KB)  and provides a number of resources to help you better navigate the system.
Get the articles direct to your inbox!